FHS Wrestling News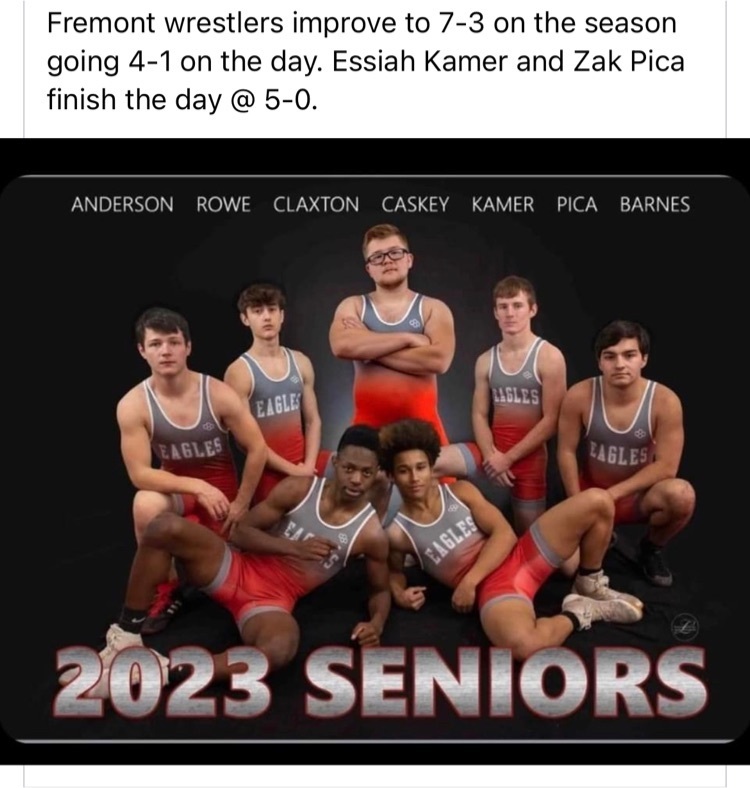 Eagle Chatter 12.2

FMS Athletics 12.5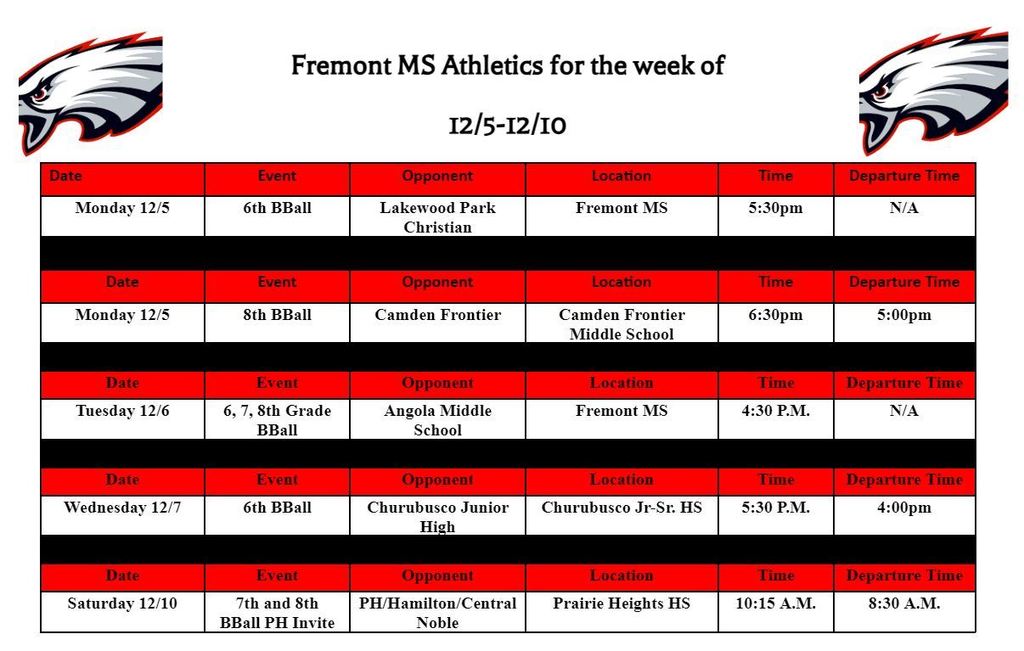 Did you know you can view our breakfast and lunch menus on the app without searching for a document? Simply choose your school of choice, go to the menu and select Dining. This will allow you to view the day(s) of your choice. Your daily menu will also be listed right on the home screen of your selected school for a quick view! For those who don't have our app, you can still find the menu on our website at the top of the Home page.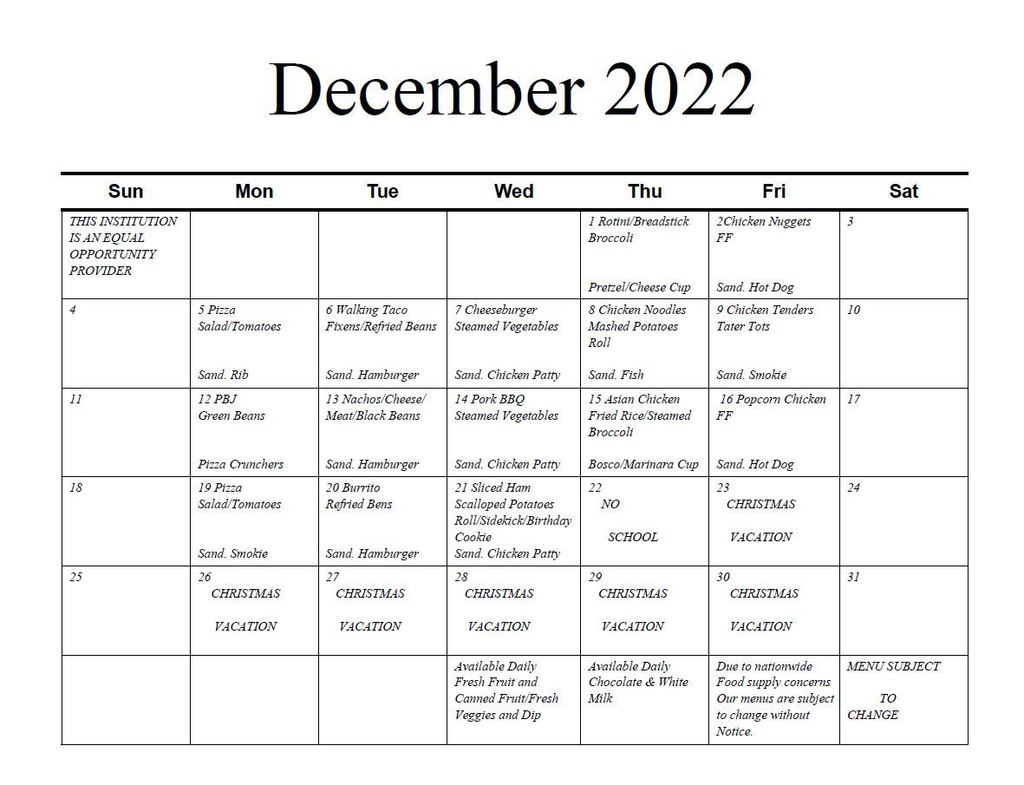 Fremont swimmers had a great night last night at their first meet of the season! 👏🏼🦅❤️🏊🏼‍♂️🏊🏼‍♀️ Results from last night's swim meet with Angola/DeKalb/Eastside: Gage: 2nd place 50 free (25.57) and 2nd place 100 backstroke (1:05.05) Camilo: 1st place 200 free (2:01.25) and 2nd place 100 butterfly (1:03.22) Emery: 3rd place in 100 free (1:13.22) and 4th place 100 breaststroke (1:35.93)

High School Athletics 12.5.22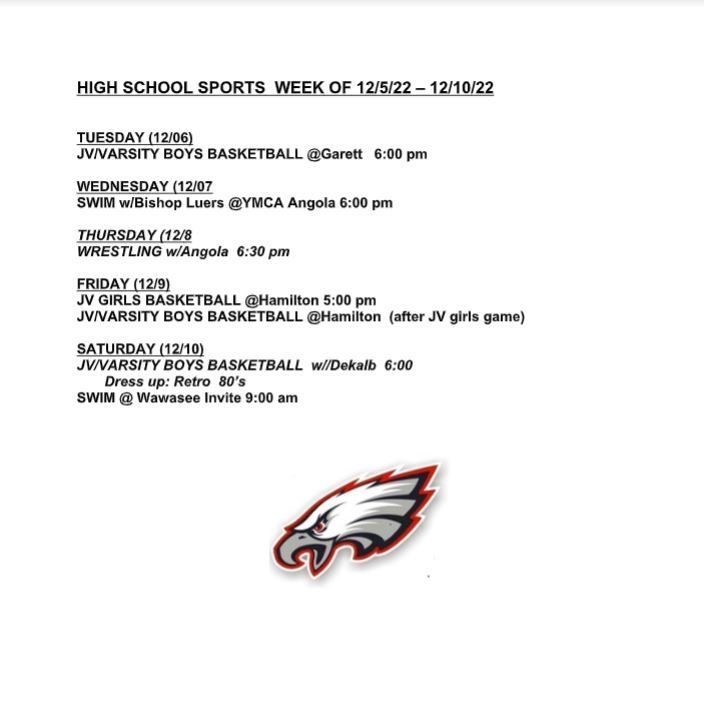 Good morning parents & athletes! Ryan Reetz here with the Fremont youth league. We are still in need of 4th Grade girls to fill our basketball team, if your girl(s) are interested please call or text Nancy with any questions at 260-668-9352, we can make it affordable for them to play. Also, you can contact Ryan at 260-667-1076 text or call. Once again, we can work with you all on making it affordable. All practices & workouts are here in Fremont. So please reach out or get your registration form into the Fremont elementary school. Thanks ✌️

Trine University STEM Fair for 5th-8th grade students.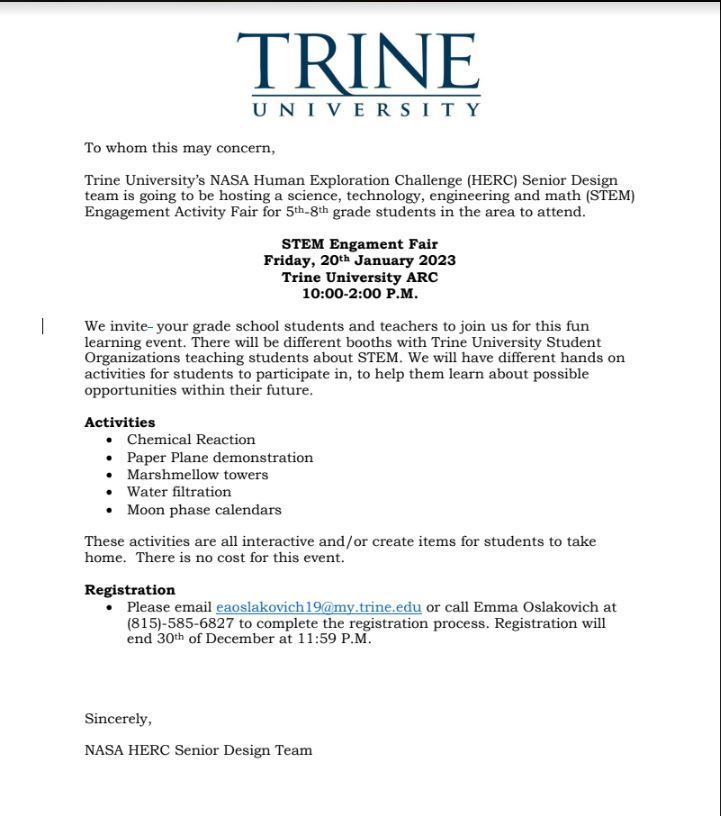 🦅WAY TO GO EAGLES🦅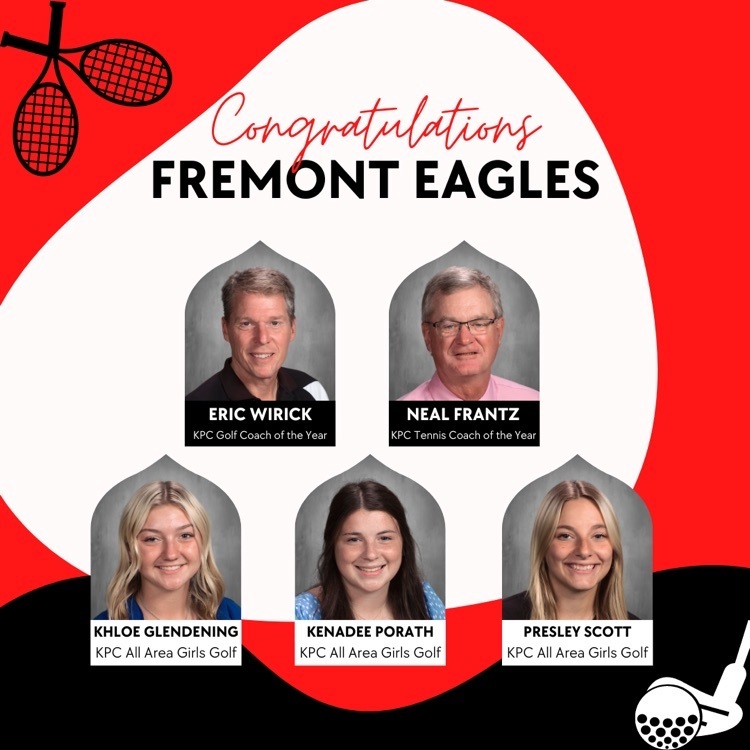 HIGH SCHOOL SPORTS WEEK OF 11/28/22 – 12/03/22 MONDAY (11/28) JV/VARSITY GIRLS BASKETBALL @EDON 6:00 pm WEDNESDAY (11/30 VARSITY (ONLY) GIRLS BASKETBALL w/HERITAGE 6:30 PM FRIDAY (12/2) JV/VARSITY BOYS BASKETBALL w/LAKELAND 6:00 SATURDAY (11/26) WRESTLING @NECC SUPER DUAL WESTVIEW 9:00 AM

FMS Athletics Schedule 11.28 - 12.2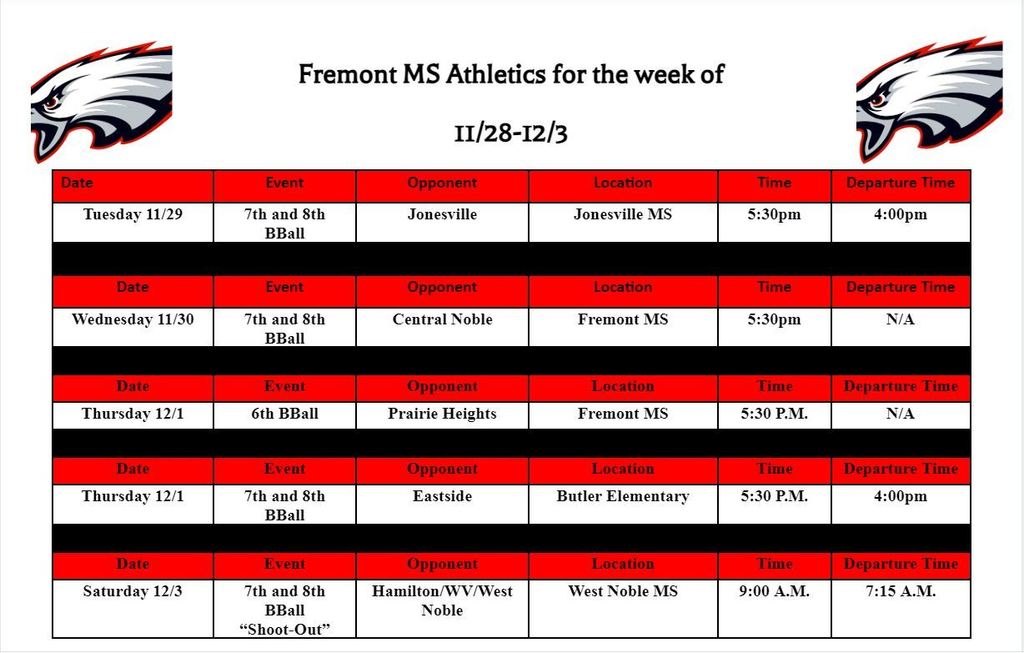 We did our 2nd annual Fremont Elementary Eagles Turkey Trot 2022 during our P.E. classes last Thursday! Second graders walked/jogged a 1/2 mile and the 4th graders walked/jogged a mile. Everyone earned a certificate! I am very proud of all of them! 2nd & 4th Graders are pictured. Elementary P.E. Teacher - Kim Strowig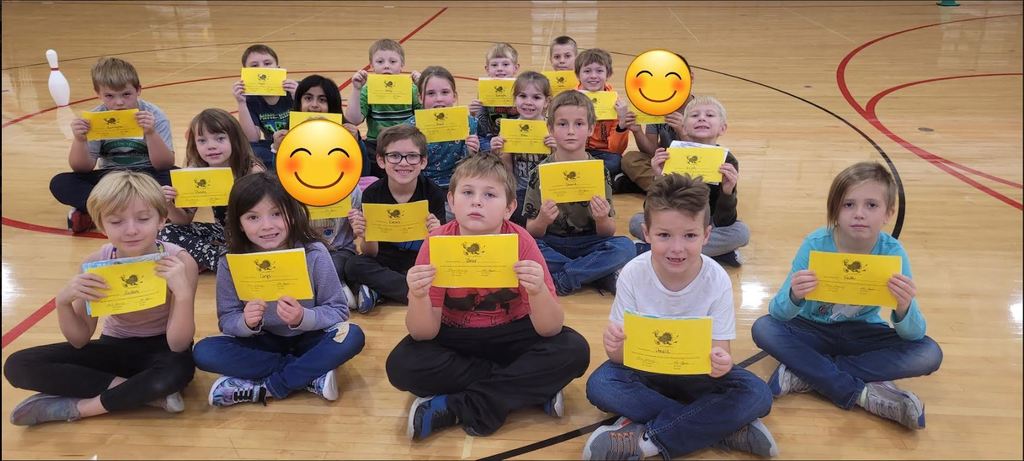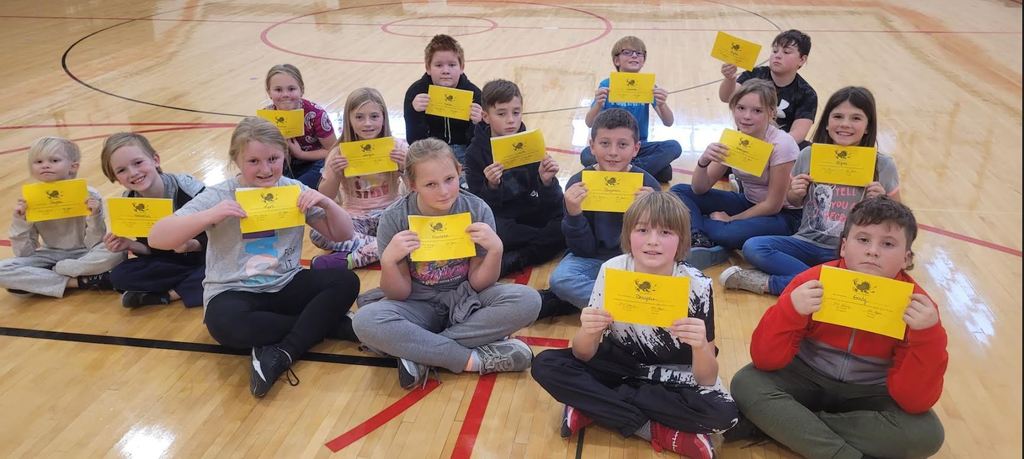 During the month of November, the students have been working on our Thankfulness Tree. Every session they got to write down something they are thankful for, cut it out in the shape of a "leaf", and add it to our tree. As you can see, we have a lot to be thankful for!-- Kim Wagner Speech Therapist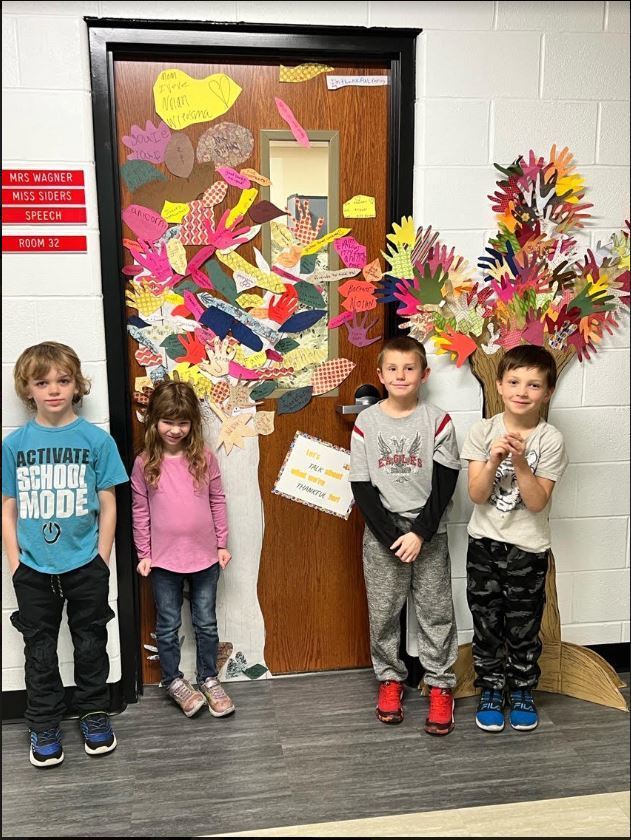 Eagles Chatter 11-18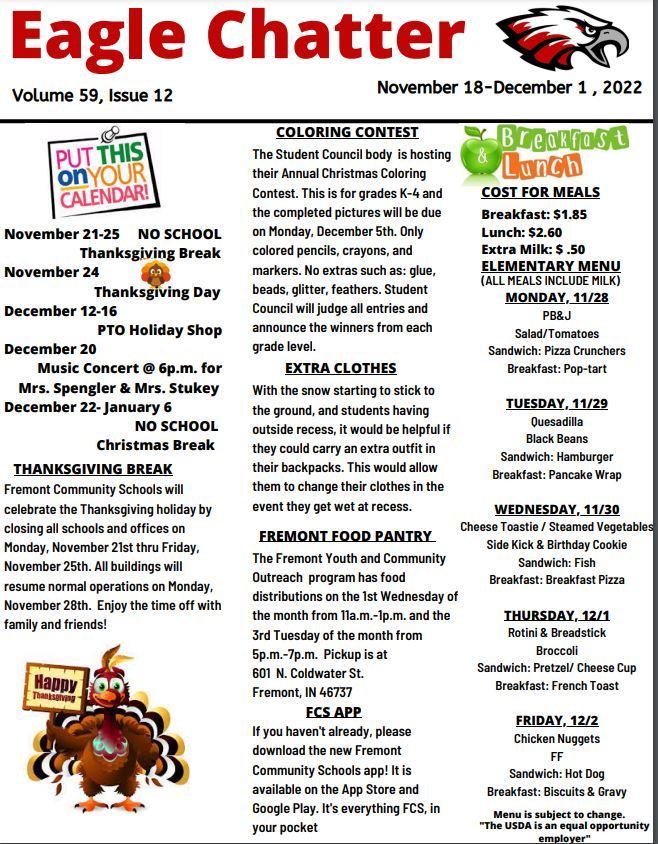 This afternoon FCS was informed of a possible suicidal person in the area that law inforcement could not locate. With Fremont Police Department recommendation FCS went on a precautionary code yellow at approximately 1:25 PM. The code yellow was lifted at 1:55 PM.

REMINDER: Both tonight (vs. Blackhawk Christian) and Friday (vs. Central Noble) JV Girls Basketball will only be playing 1 Half. Varsity will have a regular 20 minute warmup following the JV half.

HIGH SCHOOL SPORTS WEEK OF 11/14/22 – 11/19/12 TUESDAY (11/15) JV/VARSITY GIRLS BASKETBALL w/BLACKHAWK 6:00 FRIDAY (11/18) JV/VARSITY GIRLS BASKETBALL w/CENTRAL NOBLE 6:00 "Hooping for the Cure" SATURDAY (11/19) SCRIMMAGE - JV/VARSITY BOYS BASKETBALL w/PRAIRIE HEIGHTS 6:00 WRESTLING @BLUFFTON 9 AM

Parents- If your band or choir student sold cheesecakes they must be picked up on Friday Nov. 11th from the Middle School Band room, by 4:30pm. Use door M-20 at the back of the school. If you need a later time please contact Mrs. Springar

Fremont 4th graders took time during their recess to decorate the Fremont American Legion in preparation for Veterans Day this Friday. Fremont Elementary grade levels each created posters, cards, and crafts to show their ongoing appreciation for those who have and are currently serving in the United States military. 🇺🇸 THANK YOU FOR YOUR SERVICE!--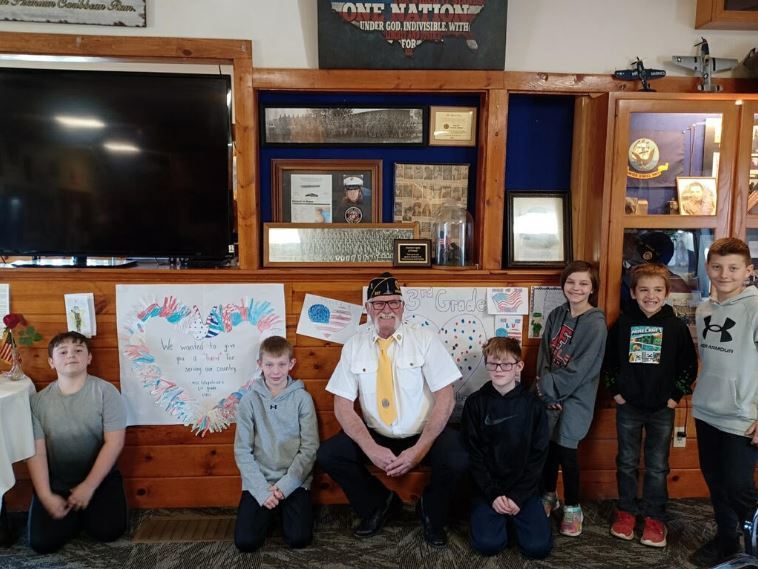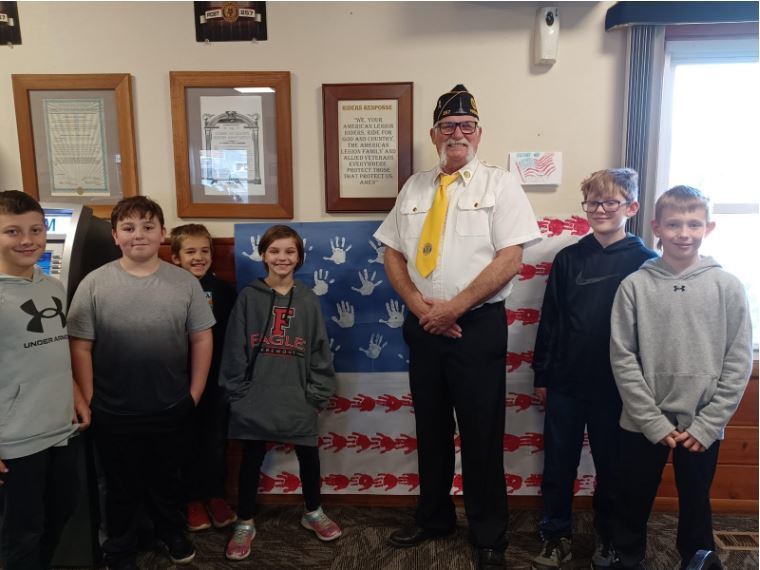 Part Time Custodians Needed Looking for part time employment? We are looking for several people to join our custodial team. A typical part time shift would be 4-5 hours per day. Monday - Friday 3:00 PM - 8:00 PM. Some Responsibilities Include: Perform general cleaning and sanitizing tasks throughout the assigned area. Disinfect bathrooms, classrooms and office areas. Wipe and dust surfaces in classrooms. Vacuum, mop and sweep floors. Stock all hand towels, toilet paper, and hand soap in bathrooms. Pick up and empty trash containers. Notify maintenance if something is not working correctly. For more information please contact Fremont Superintendents Office at 260-495-5005 or email Chad Walter at
cwalter@fremonteagles.us
. These positions pay $14.00 per hour.