Join us for Hall of Fame Night this Friday! Our ceremony will take place after the conclusion of our JV Boys Basketball game vs. West Noble at 6:00 pm. This year we will be inducting 2013 graduates Tyler Jenkins, Glenn McClain, and Anna (Aldrich) Shaw. These three would truly appreciate the support of familiar faces helping them enjoy this wonderful accomplishment.
Flight of the Eagle Award January 2023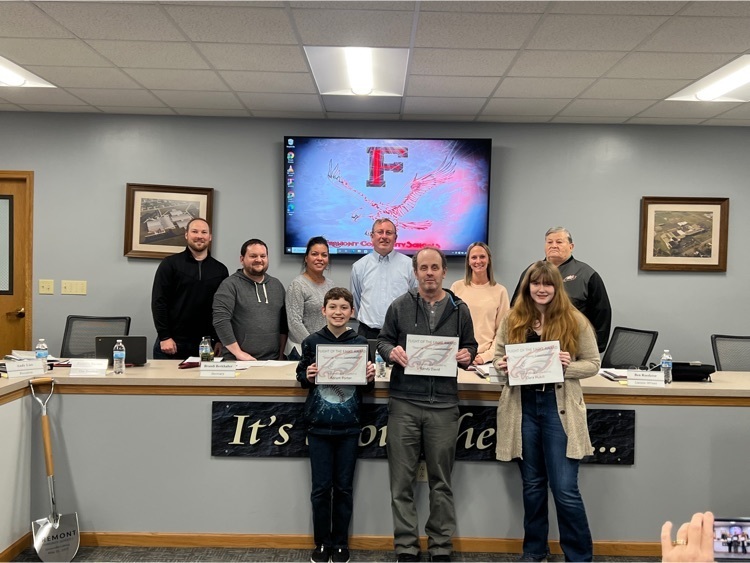 Friday Morning, 1/20/23 Bus 4 will run 1 hour late. This affects bus 4 only and only for the am route. The afternoon will be on schedule.
Calling all wrestlers! New and old! Steuben County Wrestling Club is in full swing! Didn't get to try out wrestling in our clinics before Christmas? Contact us at
steubencountywrestlingclub@gmail.com
or find us on Facebook (Steuben County Wrestling Club) to get more information! Practices and meets are going on now!
Farmers State Bank donated $1000 to help sponsor the Spring High School Musical. Thank You Farmers State Bank.
1/17/23 Two Hour Delay Please be careful if driving this morning. Dense fog in some areas.

The Fremont Moose Lodge donated $1,500 to be used towards the purchase of new jerseys.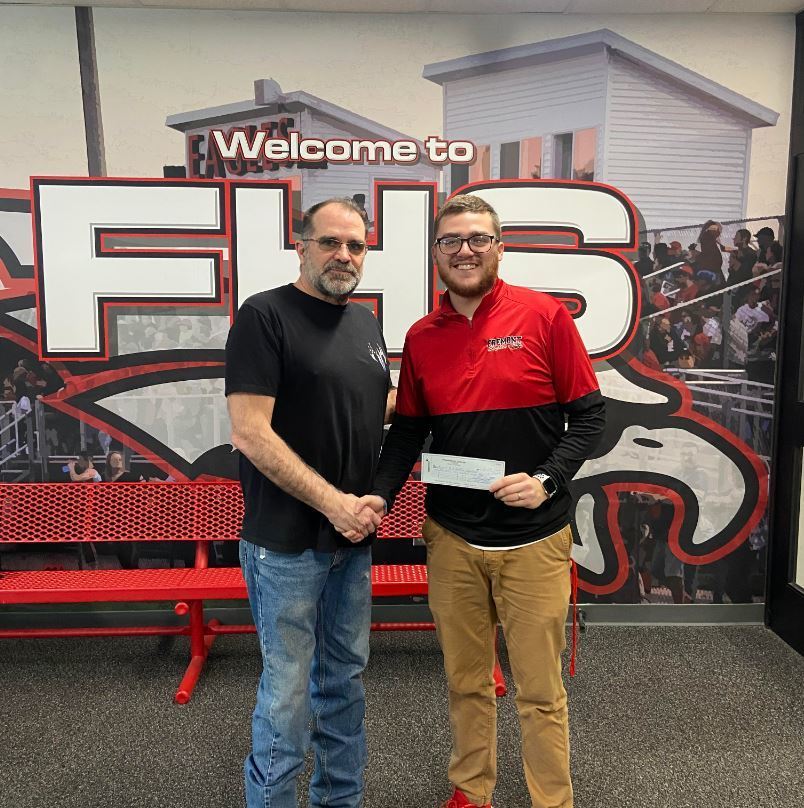 Fremont Methodist Church donated $3000 for school lunch accounts. Thank You Fremont Methodist Church!!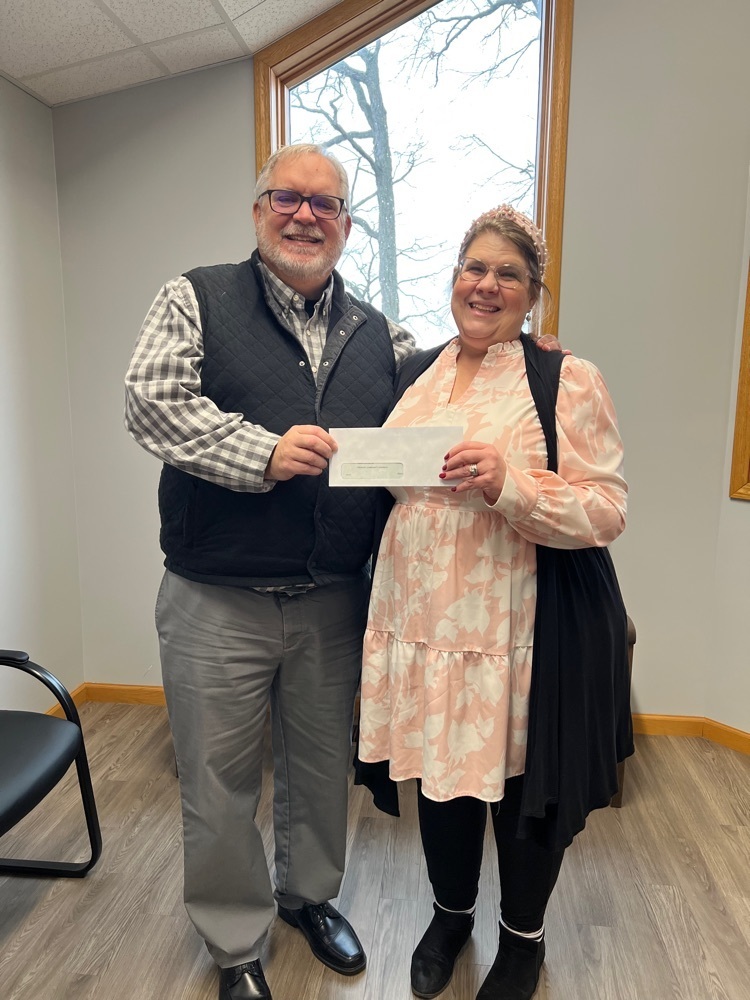 All of us in Fremont are shocked and deeply saddened by the tragic death of three of our young children and their mother. There are no words that can adequately express our sorrow for the loss of this family. Please keep the family in your thoughts and prayers. On behalf of Fremont Community Schools, I extend our sincerest sympathy to this family. They have our heartfelt sympathy during this difficult time. We will have extra grief counselors at the school to help with any needs our faculty, staff and students have.

FMS Athletics 1.16.23

Eagle Chatter

Bus 4 will run 1 hour late for the afternoon run Friday 1/13/23. This affects bus 4 only and only in the afternoon Friday.

Elementary Maternity Leaves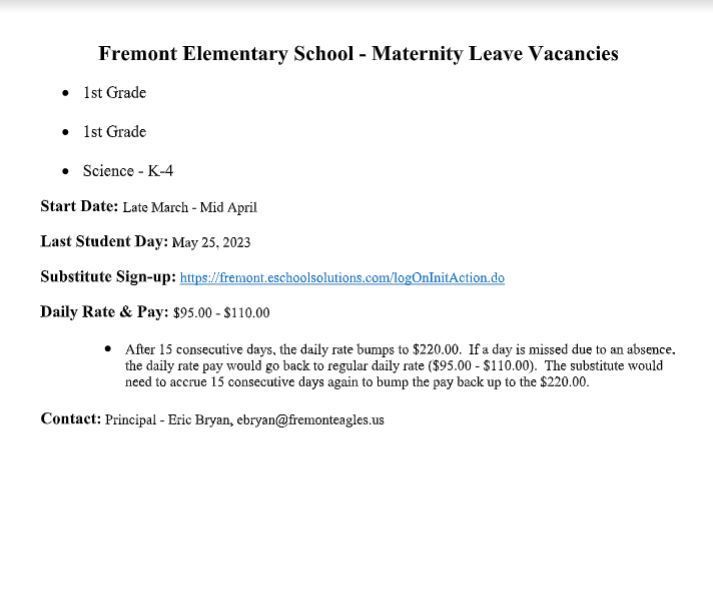 TONIGHT! SENIOR NIGHT! RIVALRY NIGHT! 🦅💥 Our Fremont Wrestling Team hosts rival Prairie Heights tonight at 6:30pm. Our Seniors will be honored, then the matches will start. You can watch LIVE on the Fremont Eagles Network on YouTube! DeWayne & Jerry Eck will be on the call! LET'S GO EAGLES!!!

There will be no Skiing tonight (1-12) for Ski Club. Students, please check your emails as soon as possible for updates. - Coach Strowig
The power issue has been corrected. We are still waiting on a few relays to be delivered. FCS is all set for school tomorrow.
Today, part of Fremont, including the elementary, and high school were affected by a power issue. The teachers and students did a wonderful job the last hour and a half of school. NIPSCO has been called and are working to solve this issue.

FMS Athletics 1.9.23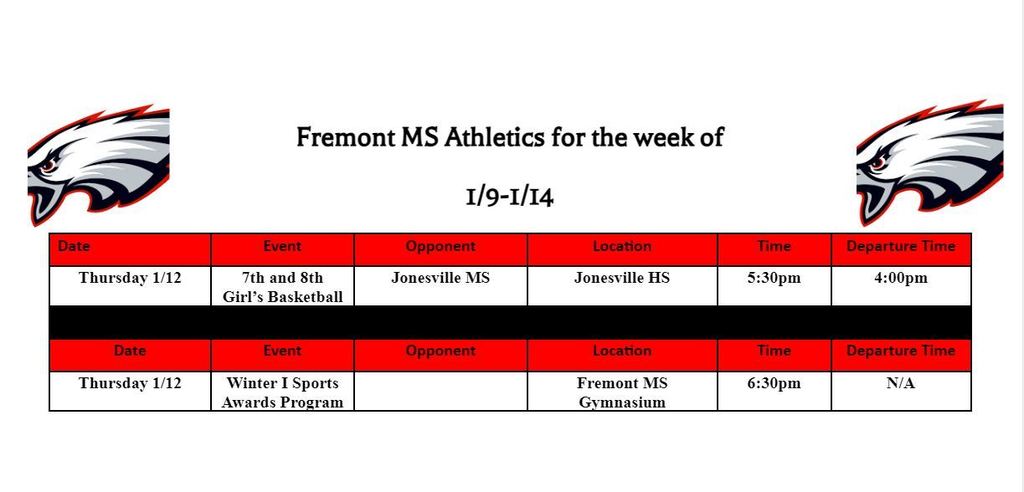 Fremont Community Schools School Board Open Seat With the resignation of Kim Bennett we have an open seat. You must reside in Clear Lake Township to be considered. If interested please email me at
bstitt@fremonteagles.us
before January 13, 2023.
Due to potential weather, Fremont High School WILL NOT have any practices tomorrow, December 23rd. Please stay safe, and have a Happy Holidays!